We stay on
Budget

. We are Battling for

EXCELLENCE. SAFETY

is our 1# Objective. We finish projects on

TIME.
Battle Axe Construction LLC is a specialty contractor who provides site development, demolition, commercial landscaping, clearing/grubbing services & more. We are 100% committed to excellence in delivery, attention to detail and cohesiveness of partnering to achieve projected goals and top quality projects.
EQUIPMENT
Battle Axe Construction has a full-time fleet of dump trucks and drivers that can handle every job on your site exactly when you need it.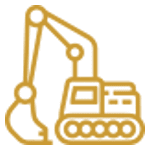 About Us
We complete our construction projects safely, on time and within budget. For all of our scopes of work, specially trained crews are assigned specific tasks on projects.
Our Clients
We have a diverse group of skilled, talented, and experienced professionals that are all dedicated to achieving excellence. Serving Ohio, Kentucky, and Indiana.